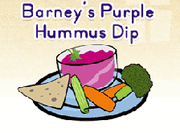 Perfect for little dippers. Can you guess how it turns purple?
Prep Time: 5 minutes Makes: one cup Serving Size: 3 Tbsp
Ingredients
15 ounce can garbanzo beans, drained (keep the liquid)
2 garlic cloves, minced
1 teaspoon ground cumin
1/2 teaspoon black pepper
2 tablespoons lemon juice
1 tablespoon extra virgin olive oil
1 can of beets (only the juice will be used)
1 package of pita bread
Variety of raw vegetables, cut for dipping (carrots, celery, broccoli, etc)
Salt to taste
Supplies
Measuring spoons
Food processor
Mixing bowl
Mixing spoon
Serving plate
Directions
Combine garbanzo beans, garlic, cumin, salt, pepper, lemon juice and olive oil into a mixing bowl.
Put the contents of the bowl into the food processor and blend on low speed, gradually adding about 1/2 cup beet juice and 1/4 cup of reserved garbanzo bean liquid, until the desired consistency is achieved.
Cut vegetables and pita bread into bite-sized pieces, arrange on a plate and serve along with the hummus.
Community content is available under
CC-BY-SA
unless otherwise noted.